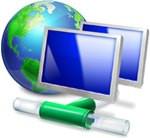 12. IT Assessment - Network Design
IT Assessment of Perimeter, LAN, and Wireless design, per hour
This component of the assessment will answer the following questions:
What protection does my network firewall offer the organization and its users?
Is my network reasonably secure from outside threats?
Does our network security adhere to the compliance goals of my organization?
Do my employees have access to a Virtual Private Network (VPN) that allows them to securely access internal resources, remotely?
Is my perimeter firewall or router's software up to date and safe from the newest exploits?
Does the firewall include advanced Intrusion Protection, AntiVirus, or Data Loss Prevention features to keep the organization's proprietary information safe?
Is my network slower because the firewall or router is under-performing?
Assessment categories:
Firewall and/or router operating system review
Basic compliance
Denial of Service assessment
Terms:
Expiration 180 days from purchase
To occur during standard business hours
LINK TO TERMS OF SERVICE
---