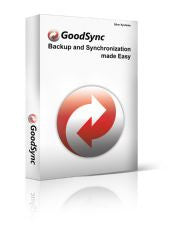 GoodSync Enterprise License and Annual Maintenance
GoodSync Provides Peace of Mind for Your Enterprise Quickly and Cost-Effectively
Research shows that over 50% of enterprise data is stored on individual users' laptops or desktops and is not protected. With an increasingly mobile work force in enterprises, there's clearly been a large increase in the amount of working data stored on smart phones and other devices. GoodSync Enterprise is a cost-effective, out-of-the-box, and full-featured solution to protecting this data.
GoodSync Enterprise offers a unique, next-generation synchronization and backup solution that is entirely file-based. It provides organizations with an easy way to backup and synchronize employees' work folders and files automatically; ensuring files are protected and always up-to-date. Synchronization can be done between desktops, laptops, servers, mobile devices and external drives. Given that GoodSync Enterprise is extremely inexpensive and convenient, nothing should be stopping you and your IT team from employing it in your organization.
GoodSync Enterprise Annual Maintenance
Includes maintenance updates, phone support from 8:00 a.m. to 6:00 p.m. EST and unlimited 24/7 online support.GoodSync Server is available to business, non-profit, educational, and government entities. 
This is a server license and works on Windows 2000 Server/Advanced Server/Datacenter Server, Windows Server 2003, Windows Server 2008, and OS X Server.
---