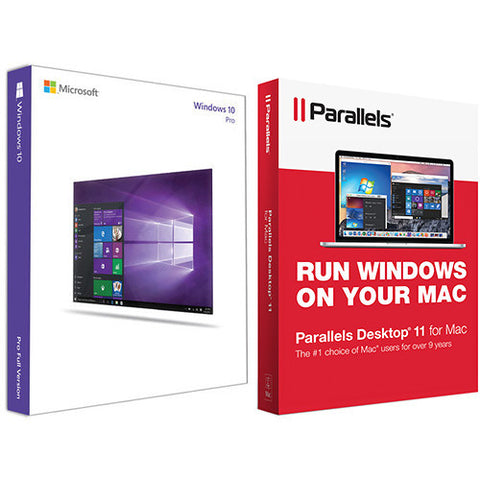 Microsoft Windows 10 Pro 64-bit Kit with Parallels Desktop 11 Pro for Mac
DAG Tech IT Services E-STORE
---
---
Run Windows and Mac operating systems side by side with the Microsoft Windows 10 Pro (64-bit) Kit with Parallels Desktop 11 Pro for Mac. Install Microsoft Windows 10 (64-bit) on your Mac and use Parallels Desktop 11 to launch it.
Install the 64-bit Windows 10 Pro operating system from Microsoft on your notebook or desktop to enhance it with a hybrid Start Menu, Microsoft Edge web browser, and Cortana personal assistant. Windows 10 Pro is designed to meet the needs of business and home users. In addition to all the features found in Windows 10 Home, the Pro version also comes with Bitlocker, Remote Desktop, Client Hyper-V, and more. Bitlocker protects the data on your hard drive and other storage devices, which is critical in environments where sensitive data needs to be kept secure. For accessing the corporate network, you can join a Domain as well as login in remotely with Windows 10 Pro.
Efficiently operate virtual environments with the OEM CD-ROM version of Parallels Desktop 11 for Mac. This software lets you launch Windows applications right from your Mac desktop, or move your existing Windows files, documents, and other digital data directly to your Mac. You can also copy and paste apps between your Windows and Mac environments. Integrated Real-Time Virtual Disk Optimization efficiently manages the hard drive space your virtual machines occupy.
This Kit Includes:
Microsoft Windows 10 Pro (64-bit, OEM download)
Parallels Desktop 11 for Mac (OEM )
---